Kochen mit Rogash, das Interview
Details

Veröffentlicht: Montag, 10. Februar 2014 18:41
Im Oktober 2011 haben wir mit Sänger Erik von ROGASH ein Interview geführt. Seit dem 21. Januar 2014 steht der erste Longplayer der Band namens "SUPREMACY UNDONE" in den Plattenläden. Ich habe Erik besucht und mit ihm ein leckeres Chili gekocht. Nebenbei haben wir über die neue Platte, Kochweisheiten und geplante Shows für 2014 gesprochen.
Los ging's beim Schnippeln von Zwiebeln, Tomaten und diversem anderen Gemüse mit den ersten Fragen.
Servus Erik! Euch gibt's jetzt seit 2009, 2010 habt ihr eure EP "Rogan Era" aufgenommen. Wann habt ihr mit der Arbeit für eure LP begonnen und was kochen wir da eigentlich?
Salve Micha! In den letzten Jahren haben wir an jeder Steckdose gespielt die wir finden konnten – von Tübingen nach Bremerhaven und von der Tschechei nach Stuttgart. Der nächste logische Schritt nach der Vielzahl von Auftritten war das Album. Dazu muss man sagen, dass wir uns das Geld für Studio sowie Mix und Master vom Butterbrot abgespart haben – das dauert seine Zeit. Leider konnten wir keine Bank finden, die uns als kreditwürdig einstufen wollte…hahahaha! Wir machen jetzt ein veganes Chili... "Non Carne" sozusagen – ich bin kein Veganer aber wir zeigen einfach mal, dass wir das könnten, wenn wir wollten.
Eine LP aufzunehmen ist ja sicherlich ein großes Projekt. Wie seid ihr das Projekt angegangen und wie entstand der Kontakt zu Szene-Legende Dan Swanö?
Das Angebot für die Aufnahme hat uns Fabian von DESERTED FEAR unterbreitet, nachdem wir zusammen einen Gig gespielt und dann heftig gezecht haben. Der Vorteil für uns bestand darin, dass wir keinen festen Studiotermin blocken mussten und die Stücke so nach und nach aufnehmen konnten wie es uns die äußeren Umstände erlaubt haben. Der Kontakt zu Dan kam ebenfalls durch Fabian zustande: Die Jungs haben ihre Scheibe ebenfalls dort mixen und mastern lassen und wir sehen Dan als großartigen Musiker an – so führte eins zum anderen.
Inzwischen sind alle Zutaten im Topf und es duftet schon lecker. Wusstet ihr eigentlich, dass man bevor man Kartoffeln kocht ein Stückchen Butter dazu geben kann um Überkochen zu verhindern? Danke Erik, sehr interessant! Nun geht's aber mit den Interviewfragen weiter. Wo liegen die noch gleich? Achja, hier… 
Über welchen Zeitraum und wo habt ihr das Album aufgenommen? Gab es Momente, an die ihr euch gern zurückerinnert oder witzige Anekdoten aus dem Studio?
Den Tipp mit der Butter hab ich von meiner Mom und um es chemisch auszudrücken: Die Lipide setzen die Oberflächenspannung der Wasseroberfläche herunter – ich hoffe das war richtig…hahahaha! Zurück zum Thema: Die Aufnahmen liefen von Anfang 2013 bis hinein in den Sommer und ich kann dir sagen das es bei 30 °C Außentemperatur verdammt heiß wird, wenn du in einer Gesangskabine stehst, die einen gefühlten Quadratmeter Grundfläche hat. Dementsprechend habe ich das gesamte Album nackt eingesungen…hahahahaha!
Mit War Anthem Records habt ihr einen perfekten Partner für euer Album gewonnen. Wie kam der Kontakt zustande und wie hilfreich war es euch mit so einem großen Label zusammen zu arbeiten?
Unabhängig von ROGASH und der Veröffentlichung kannten wir die War Anthem Jungs schon länger. Durch eben jenen, freundschaftlichen Kontakt waren die Männer stets im Bilde was unsere Liveaktivitäten, den viralen Erfolg der EP und das geplante Album angeht. Dennoch haben wir zu keiner Sekunde daran gedacht, dass sich ein Label dieser Größenordnung für uns interessieren würde. Bis zu jenem schicksalhaften Tag beim Party.San 2013, als wir die Ansage bekamen die unfertigen Aufnahmen gefälligst zur Hörprobe einzureichen (lacht... mal wieder). Um es mal auf den Punkt zu bringen: dass wir bei W.A.R. gelandet sind, ist der absolute Kult für uns! Nicht umsonst sind dort Größen wie Purgatory, Darkened Nocturn Slaughtercult, Post Mortem oder Bombs of Hades unter Vertrag. Den Rotwein hier brauchen wir zum Einkochen des Tofus – ich hab' leider keinen Flaschenöffner, deswegen musst du mir assistieren.
Den Umständen entsprechend werden Schraube, Schraubenzieher und Kombizange zum Öffnen des Weins zweckentfremdet.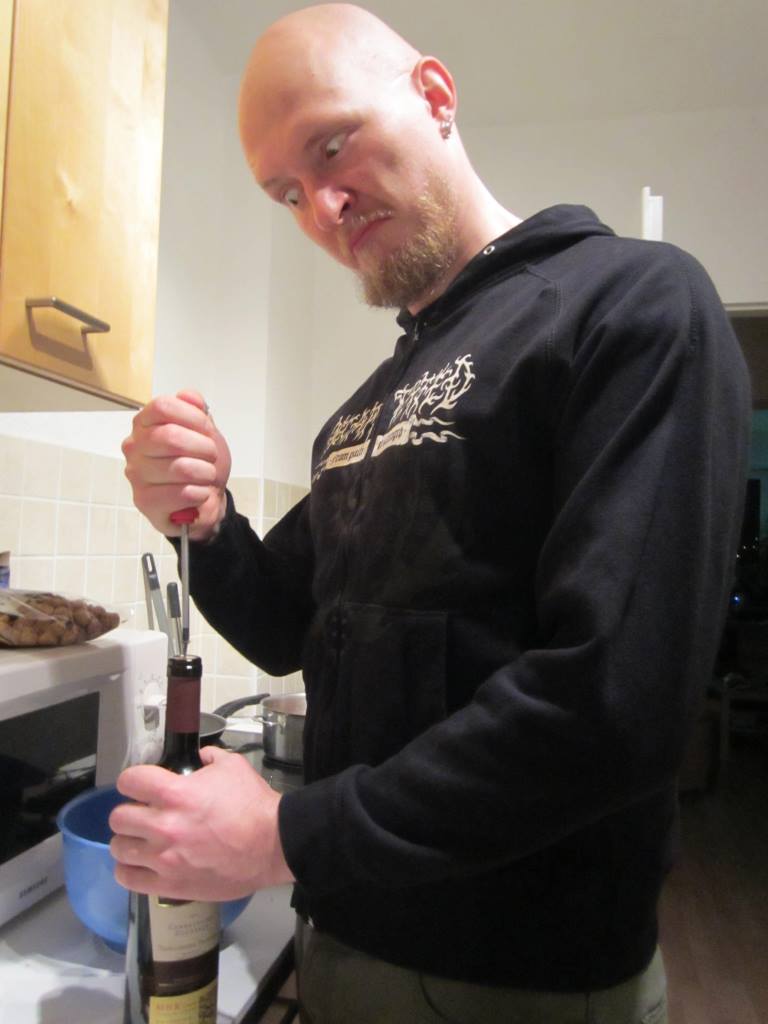 Wie ist der Albumtitel entstanden? Gibt es ein textliches Konzept hinter "Supremacy Undone"?
Die Songs basieren textlich alle auf den alltäglichen Grundprinzipien des Daseins, die mich so unglaublich ankotzen: Gier, Hass, Schubladendenken und Unehrlichkeit. Alles das, was wir tun, um uns selbst Vorteile gegenüber anderen zu erspielen. Ich sehe mich in manchen Situationen selbst in dieser Rolle, versuche allerdings jene gering zu halten bzw. mein Handeln zu überdenken. Ob das immer gelingt, bleibt fraglich. Dementsprechend ist auch der Albumtitel ein Wink mit dem Zaunpfahl – vor allem in Richtung Szene. Es kotzt mich an, dass wir uns gegenseitig die Butter auf dem Brot nicht gönnen oder grundlos gegen andere Vorgehen, ohne deren Beweggründe zu hinterfragen. 
So, inzwischen haben wir liebevoll den Tisch gedeckt (zweckmäßig, wie Kerle nun mal sind) und stürzen uns auf unser Chili. Mhh, echt lecker. Jetzt muss ich mich erstmal aufs Essen konzentrieren, gleich geht's weiter………..………fertig.
Eine kurze Google-Anfrage mit eurem Bandnamen ergab eine Verbindung zum "Herr der Ringe"-Universum. Habt ihr dazu noch Bezug? Der Panzer auf dem Cover eurer neuen CD stimmt mich da doch nachdenklich ;)
Wenn du dein Chili entveganisieren willst, dann kannst du dir was von der Creme Fraîche reinkippen... zurück zum Album: Der Bezug beruht auf der temporären Abhängigkeit unseres Ex-Bassisten, Rocker mein Jung – Grüße nach Gera, von einem "Herr der Ringe"-Spiel für PC und der unglaublichen Unkreativität unsererseits bei der Suche nach einem passenden Bandnamen. So ist es dann ROGASH, der mordende Troll des Nordens geworden. Zum Panzer: Das Teil hat zwei Kanonenrohre und planiert ein Schädelmeer – viel fetter geht's kaum oder? Hahahaha!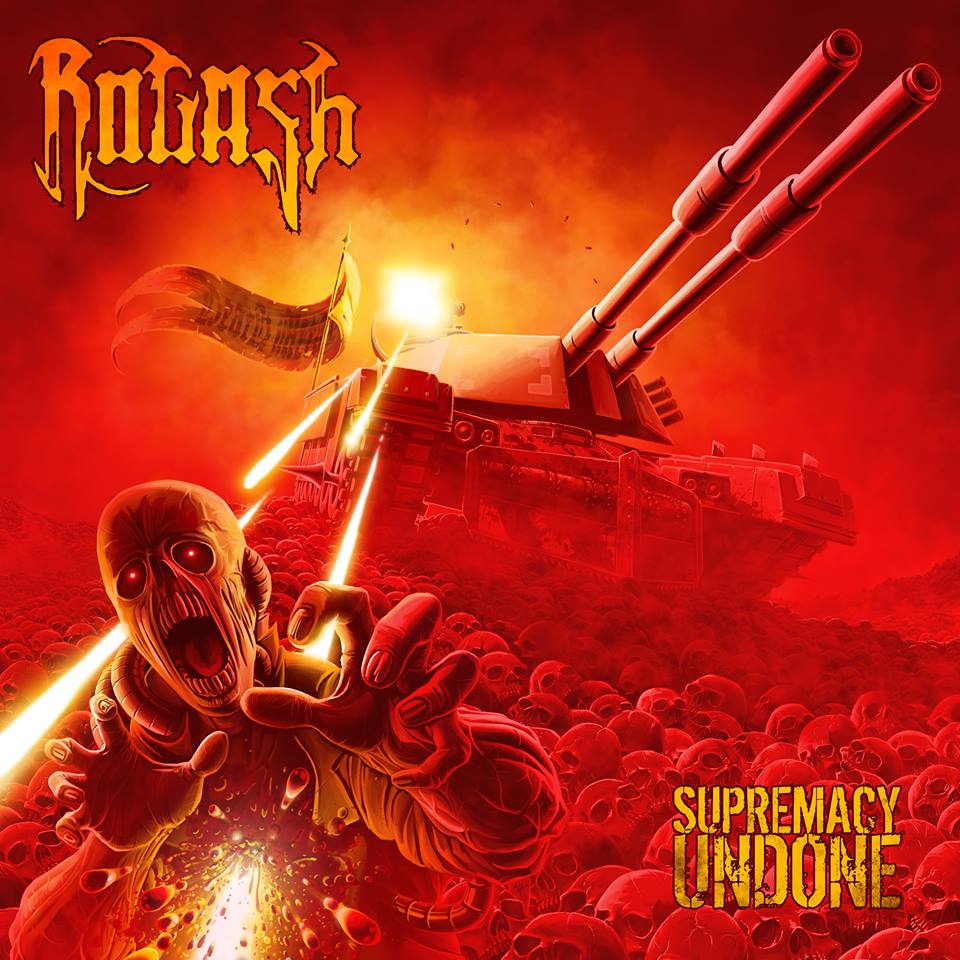 Zwischen den Fragen plaudern wir immer einmal über dies und das, unter anderem auch über den Videodreh zum Song "KINGDOM OF GRIEF".
Erzähle doch mal, wie das ablief?
Ja liebe Gemeinde, wir haben keine Kosten und Mühen gescheut und ein fettes Video zu "Kingdom Of Grief" gedreht. Dazu sind wir an einem nebligen Sonnabendmorgen in aller Frühe aufgestanden, haben allerlei Equipment zusammengesammelt und uns zu guter Letzt mit Mirko Witzki von MIWI-Graphics getroffen. Anschließend sind wir in mein Wohnzimmer gefahren (wie man auf dem Video unschwer erkennen kann) und haben ein paar Stunden lang Vollgas gegeben. Das macht bei einer Außentemperatur von 5 °C besonders viel Spaß, wenn man nur im Shirt performed. Wir sind mit dem Ergebnis mehr als zufrieden! Aber seht selbst...
Um Live-Erfahrung zu sammeln braucht es sowohl Clubs als auch Besucher, die den Underground unterstützen. Wie sind eure Erfahrungen diesbezüglich besonders in eurem Heimatland Thüringen?
In den großen Städten, Gera, Jena, Weimar und Erfurt ist weit weniger los als viele denken, was ich mangelnder Nachwuchspflege zuschreibe. Wenn es keine festen Vereine, Stammtische, Kneipen und die generelle Bereitschaft der Jungmetaller an Derartigem gibt, dann kann sich eine Szene nur schwer entwickeln. Dass es auch andersrum geht zeigen mir der Metalstammtisch in Saalfeld oder die 28 Death Sentences in Liebengrün – hier ist die Welt noch, oder besser gesagt wieder in Ordnung.
2014 könnte euer Jahr werden. Neben vielen Konzerten wurdet ihr bereits für namhafte Festivals, wie beispielsweise dem Party.San bestätigt. Was erwartet ihr euch davon?
FREIBIER!!! ... achso – du willst noch mehr Infos (lacht). Das Party.San könnte ganz klar ein Highlight werden und wir sind jetzt schon hibbelig, wenn wir daran denken. Unabhängig davon freuen wir uns auf jede Liveshow, die anderen Bands und das Publikum sowie die Gespräche die sich im Nachgang der Konzerte ergeben.
Auf den Punkt gebracht- was können wir 2014 von euch erwarten?
Das lässt sich ganz klar auf das 1A Chili runterbrechen das wir gerade verputzt haben: Eine deftige Liveshow mit ungewöhnlichen Zutaten von fünf scharfen Typen!
Nun ist der Abend bei Erik auch schon vorbei. Ich bin satt, lecker war's!!! Außerdem war's sehr informativ und auch echt witzig. Vielen Dank!!! Ich hoffe, dass ihr nun auch auf den Geschmack gekommen seid undeuch die neue Scheibe besorgt. (www.rogash.de oder Facebook unter www.facebook.com/rogashmetal )

Gemüse geschnippelt und Fragen gestellt: MB