Interview mit Neaera
Details

Veröffentlicht: Samstag, 08. Juni 2013 17:06
Kurz vor Begin unserer Festivalsaison hatten wir die Möglichkeit mit Sänger Benny von Neaera ein Interview zu führen. Das Ergebnis des ganzen könnt ihr hier nachlesen. Viel Spaß damit und bis bald aufm Acker!
Nachdem ihr Anfang des Jahres eure neue CD "Ours is the Storm" veröffentlicht habt und mit Hatebreed auf Persistence-Tour wart, bereitet ihr euch nun (wahrscheinlich) schon auf die Festival-Gigs im Sommer vor. Freut ihr euch auf das große Publikum bei Festival-Auftritten oder spielt ihr lieber Konzerte in kleineren Clubs und habt dafür die ungeteilte Aufmerksamkeit?
Schwierige Frage, beides cool… Festivals haben immer einen gewissen Urlaubscharakter, zumindestens wenn das Wetter mitmacht :-) Außerdem haben Festivals den Vorteil, dass man sich neuen Leuten präsentieren kann, die einen bislang nicht wirklich auf dem Schirm hatten. Wenn ich mich aber entscheiden müsste, würde ich eine schwitzige, chaotische Clubshow dem Festival vorziehen.  Die Shows sind intensiver, ganz einfach weil alles etwas kleiner ist und man meistens nicht durch einen langen Fotograben vom Publikum getrennt ist.
Letztes Jahr seid ihr für Gojira auf dem With Full Force eingesprungen. Stehen eure Sachen bereits gepackt im Proberaum oder wie schafft man es so kurzfristig zu einem solchen Gig?
In dem Fall war ich zufällig sogar selbst  als Gast vor Ort, als  der Anruf von unserer Booking Agentur kam… die anderen Jungs haben sich dann am nächsten Tag sofort in den Van gesetzt und sind nachgekommen. Bei einer größeren Band wäre das vermutlich nicht so einfach, da werden meist ganz andere Produktionen aufgefahren. Aber wir brauchen ja außer unseren Instrumenten nicht viel. Das bekommt man schnell in den Kofferraum geschmissen :)
Welche Bands beeinflussen eure Live-Performance am meisten?
Puh, das lässt sich gar nicht so direkt sagen. Eine bestimmte Band gibt es da nicht. Ich denke, man übernimmt natürlich immer unbewusst ein paar "moves" von Bands die man mag.
Angenommen ihr spielt auf einem Festival wie dem Party.San. Würdet ihr dort zu den üblichen Publikumsspielchen wie "Wall Of Death" aufrufen oder passt ihr euch da dem Publikum an?
Ich glaube, ich würde es zumindestens versuchen. Ein bisschen merkt man das aber auch eigentlich immer, ob die Leute Bock auf sowas haben. Wenn man dann sieht, dass schon der erste Versuch völlig in die Hose geht, spart man sich halt den Rest und hofft wenigstens auf ein paar Headbanger und etwas Bewegung im Publikum :-)
Gleiche Frage gilt auch für die Setlist: Ändert ihr diese je nach den Bands, die sonst noch spielen?
Na ja, man schaut schon was für andere Bands noch spielen und was für ein Publikum dann insgesamt zu erwarten ist. Aber wir spielen meistens auf Festivals, auf denen auch mehrere verschiedene Metalgenres vertreten sind, somit stellt sich die Frage für uns auch nicht allzu häufig. Festivals wie das Party.San oder im Gegenzug  Festivals  aus  dem "Mainstream" Bereich ohne andere Metalbands sind eigentlich eher die Ausnahme bei uns.
Apropos "Wall of Death": Diese gehört neben dem "Circle-Pit" ja zu den Standardelementen eurer Live-Shows. Denkt ihr das schon das Maximum erreicht ist, was man dem Publikum zumuten kann oder habt ihr bereits etwas in der Hinterhand, das bald in das Repertoire jeder Band auf dem With Full Force oder anderen großen Festivals  aufgenommen werden sollte?

Haha, gute Frage! Ich fürchte aber, das Maximum ist da mittlerweile erreicht. Die Leute sollen ja nach dem Festival auch heile wieder nach Hause kommen. Das extremste, was ich bislang mitbekommen habe, war ein Fan der sich bei einer Show in Russland mit Absicht im Pit angezündet hat (und umgehend von seinen eingeweihten Freunden gelöscht wurde). Kein Scheiß! Ich hoffe mal nicht, dass das in Mode kommt haha…
Besucht ihr privat gern Festivals?
Ja, sogar sehr gerne! Vielleicht nicht unbedingt direkt nach einer längeren Tour oder einer eigenen "Festivalrutsche"…aber wenn zwischendurch im Sommer ein paar Wochen frei sind, versuche ich schon, auch privat ein Festival zu besuchen.
Welches ist euer Lieblingsfestival?
Das Greenfield in der Schweiz ist allein wegen der Landschaft schon der Oberhammer, auf dem  Summerbreeze hatten wir bislang immer die krassesten Shows und das Vainstream in unserer Heimatstadt macht schon allein deshalb Spaß ,weil man viele Freunde trifft und man mit dem Fahrrad direkt hinfahren kann :-)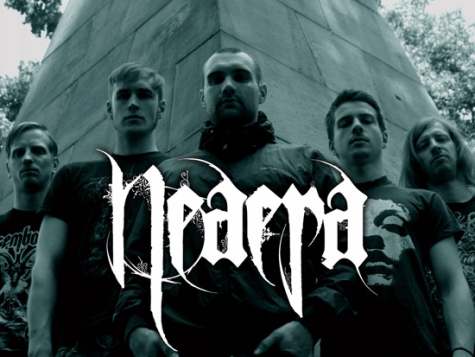 Wie sieht bei euch ein Festival aus, bei dem ihr spielt? Seid ihr, wenn möglich, das komplette Wochenende vor Ort oder verschwindet ihr nach eurem Auftritt gleich wieder?
Ich würde sagen, dass kommt auf das Festival und das Wetter an :-) Generell bin ich eigentlich nie abgeneigt etwas länger zu bleiben. Häufig muss man aber auch leider direkt weiter, weil am nächsten Tag ein anderes Festival ansteht.
Was muss man unbedingt auf einem Festival dabei haben?
Ich will ja jetzt nicht den Papa raushängen lassen, aber spontan würd ich mal sagen "Sonnencreme". Bei nem Festival mit wenig Schattenplätzen am besten mit Faktor 2000+.
Zum Schluss interessiert uns noch welches euer verrücktestes Festivalerlebnis war?
Oh weiha…das lässt sich glaub ich gar nicht auf ein Erlebnis runterkürzen bzw wäre nur halb so verrückt wenn ich es versuchen würde zu beschreiben :-) Ich finde es generell immer verrückt bzw. erstaunlich, wieviel Energie die Leute bei einem Festival mitbringen. Da wird den ganzen Tag rumgehüpft, rumgerannt, manchmal auch ganz gut gesoffen und die Leute wollen nach der letzten Band trotzdem noch nicht zurück zum Zelt :-)
Vielen Dank fürs Beantworten unserer Fragen. Wir wünschen euch einen heißen Festivalsommer